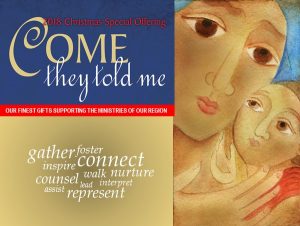 The Christmas Offering is an opportunity to support the ministry we share with one another. It supports the work of teams that meet with students preparing for ordination. It helps send out our regional staff to meet with congregations and pastors. It allows us to offer a tremendous summer camp program for children, youth and adults. It helps us connect to partners in mission throughout the world. It provides training sessions for clergy. And so much more.
Together, we gather our resources so we can collectively do ministry in the name of Jesus Christ.
On this page, you are provided with materials that help interpret this special offering. Share the stories in your newsletters, in bulletins, on your webpage, on your Facebook page or on a screen at worship. You can also use these graphics in communication pieces that you create for your congregation. There is even a poster that can be printed and used in your community. If you need more information or have questions, please contact the regional office.
Thank you for your support of our shared ministry in the Christian Church in Indiana.
Christmas Offering 2018 Downloads:
Thank you Indiana Disciples for your support and thank you for giving generously to the ministry that we do together throughout Indiana and beyond. Please feel free to share this video in your congregations and your community.
This video is for congregational use only. Do not distribute.
---
Christmas Offering 2018 Stories:
We Gather. 
Disciples gather as the people of God in communion, fellowship, and in camps, conferences and assemblies. This year's Christmas offering supports opportunities for us to gather with one another across our state.
Bob Craig, Regional Elder, reflects on one of those gatherings:
"Can We Talk?" And we did! We talked about immigration, guns, caring for God's creation, whose lives matter, and who is welcome. Several hundred of us did that at the Indiana Regional Assembly held at Light of the World Christian Church, Indianapolis, in October.
This did not hit the national news, but it did hit close to home. In such a divisive time on so many topics, the church came together and had conversations over issues that matter…issues that we are so hesitant to talk about in other settings.
How were we able to do this? We celebrated in our assembly the sacredness of conversation among the people of God! Alan Roxburgh, consultant for the missional church, once posed the question: "Where is the Holy Spirit today?" Roxburgh stated that the Holy Spirit is among the people of God. This makes conversation among us in the church so important. We serve by listening to one another – being among the people of God.  
We Nurture. 
All people thrive through nurturing, loving relationships. The Indiana Region provides opportunities for ministers, young and old, to be supported through peer groups, new clergy groups, special interest groups, and even retired ministers groups. 
Rev. Maggie Archibald
Maggie Archibald, Director of Communications for the Christian Church Foundation, reflects on one of those nurturing groups:
Growing up, and even today, one of my favorite Christmas stories was that of "The Little Drummer Boy." I know, it should probably be a scripture or something a little more biblical, but I just can't help it. I love this story! I still cry every time I watch the movie and the song is one of my favorite Christmas songs. The idea that this little boy who has nothing tangible to give to Jesus is still welcomed, still embraced, still celebrated is overwhelming to me. That is true for each of us.
When Rev. Carolyn Reed first invited me to be part of a new ministry cohort, I was a little unsure. What gifts could I possibly bring to this group of truly wonderful colleagues and ministers? Despite my hesitations, I joined the group and I am so grateful that I did because this group has been both life-changing and life-giving. Having a group of colleagues whom I could walk with during these first few years of ministry has impacted my ministry in ways I could not have begun to imagine. Our time together always consists of listening, worship, laughter, and love.
Just like the little drummer boy, each of us brings "our finest gifts" to this group and to our ministry. Each of these gifts is unique and beautiful. Because of this group, I have had the great joy of seeing and experiencing these great gifts from my seven colleagues. They are a living, tangible reminder to me that no matter what gift it is we each may bring we are all still welcomed, still embraced, still celebrated by each other and by Jesus. I am so grateful to the Region and to Rev. Reed for creating this group, for allowing me to be part of it, and for supporting new ministers in the region.
We Counsel and Assist.
It is the presence of God and others that we need to bear witness 
to our physically, emotionally, and spiritually joys and pain.
The Indiana Region offers counsel and assistant for 
clergy in the complexity of ministry life.
Ashley Sherard Clarke, Minister at Beechwood Christian Church, 
French Lick, Indiana , reflects one of those times:
On July 6, 2016, my 52-year old husband passed away.  It was sudden. It was my darkest hour. He and I were planting a new Disciples congregation in Louisiana at the time, raising our three young daughters, and making plans for our future once our contract with the new church was completed. Now, I was a widowed mother who would be jobless in a year.  
I was a commissioned minister which meant that I would need the help and support of Regional Ministers to make a move to a new congregation. I had wonderful conversations with some of them, but it was my conversation with Carolyn Reed on Valentine's Day 2017 that changed my life changer. Our conversation was full of holy moments, and she ended it by telling me she believed she had the perfect
church for me.
On July 16, 2017, I preached my first sermon in that perfect church.  Because of wonderful Regional Ministers I was able to find the perfect home. The church, full of wonderful people, loved me and my family through our hardest times and the joyful moments of a new life and ministry. I have been so very blessed by Regional Ministries and the generous support they receive through the Christmas offering!