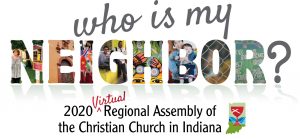 October 2-3, 2020
2020 Regional Assembly is online-programmed this year – with some of the great features you love about Assembly – dynamic speakers, group discussions, a women's event, and a vibrant worship service with a virtual choir. You won't want to miss this first ever virtual assembly – and an opportunity to invite someone who has never attended.
Disciples Women have an opportunity to gather on Friday evening October 2 at 6:30 p.m. EDT for business and conversation using Zoom Meeting. This is an opportunity to engage in dialogue with one another and with keynote speaker Rev. Lisania Martínez from San Luis Potosi, Mexico.
Saturday events begin at 9 am (ET) with a Zoom Webinar business session led by Moderator Julia Johnson, followed at 10 am (ET) with keynote speaker Rev. Lisania Martínez and small group conversations. Worship then begins at 11 am (ET) with Rev. Terri Hord Owens and a virtual choir (application below). 
Information and hyperlinks to access events will be emailed to you the week of Assembly. You will have access to ALL events, regardless of the specific event(s) for which you have registered. Watch your inbox! We are looking forward to seeing you there!
October 2: Women's Evening
"And Who Is My Sister?"
6:30 pm (ET)
Because we are having a virtual dinner, we thought it would be fun to post virtual recipes of what you might have brought to a pot luck dinner. Please post your recipes to our Facebook page:
October 3: Regional Assembly
9:00 am (ET) – Welcome, Music, and Business
10:00 am (ET) – Keynote Speaker Rev. Lisania Martínez ,
and Small Groups Conversations
11:00 am (ET) – Worship with Rev. Terri Hord Owens
and Virtual Choir
Registration closes September 23rd
Assembly Business Items
2020 Regional Assembly Business Documents
Application Deadline extended to August 31st
Congregational Music Needed for Assembly
 Congregations are invited to submit music to be included in this year's virtual Regional Assembly. There will be several musical opportunities during "gathering times" throughout Assembly. Music can be something that has already been created for a past worship service – or – it can be recorded/produced specifically for the Assembly based on the theme of "Who is My Neighbor" (Luke 10:25-29).
If your congregation is interested in providing music and/or you have questions, contact the Regional Assembly production coordinator, Chris Higgins, at 
chiggins@allisonville.org
.
SUPPLEMENTAL READING FOR ASSEMBLY:
One Region, One Book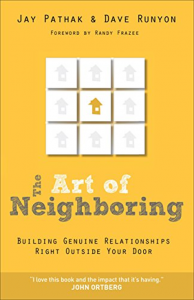 The Faith Formation Commission of the Christian Church in Indiana has an invitation for you! In  preparation for our 2020 Regional Assembly, we invite individuals and congregations to read The Art of Neighboring by Jay Pathak & Dave Runyon. As we focus on the question, "Who is my neighbor?," this book can engage us in conversation with one another about neighborliness.
Some in our region have already studied this book and have found it encouraged helpful conversations about discovering their neighbors. It is also leading them to think about their congregation's ministries and extending welcome and hospitality into their communities.
Perhaps your congregation can form a study group and let the conversations spark new imagination? Maybe you would like to be a part of an electronic conversation with other Disciples in other Indiana congregations? Or possibly create a study group with another Disciples congregation in your area to create a learning community? A study guide is available in the book itself, so no need to create anything new!
So, if you need a nudge in expanding your thinking about being a neighbor, here is an opportunity!
Let's do this together and get the conversations started! One Region, One Book! (look for more information coming out electronically soon.)
---
2018 Regional Assembly

 
"CAN WE TALK" Resources:
BOOKS:   
VIDEOS: