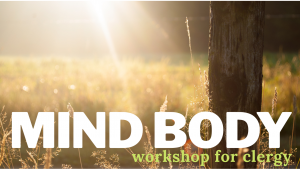 Dealing with Covid-19 over the past year has left many of us feeling stressed and anxious. Are you looking for ways to reduce stress and restore balance in your pastoral and personal life? The 
Eskenazi Health Hoosier Heartland Healing Collaborative
, in partnership with the 
Center for Mind Body Medicine
, offers a Mind Body Workshop to introduce wellness and self-care skills proven to help in alleviating stress, improving mood and enhancing resiliency.
The workshop will be co-facilitated by Disciples Minister, Rev. Ellen Corcella, a Board Certified Chaplain and Spiritual Advisor for Palliative Care and Charlene Marks, a Research and Registered nurse. The two-hour workshop will be offered via Zoom on Wednesday, May 26, beginning at 10:00 ET. The workshop will provide insight into the ability of our mind and body to help regulate our stress response and to restore a sense of well-being through regular practice of basic skills such as meditation, guided imagery, bio-feedback, movement and breath work.
After the workshop, participants will have an opportunity to join a smaller 8-week mind body skills group for further self-discovery and an in-depth practice of various mind body skills. The workshop is free but registration is required.