Faith Formation
Faith Formation refers to the ways we grow in faith as individuals and as community. Faith Formation is also about the ways we share our faith from generation to generation. We seek to provide resources, experiences, and support for similar ministries in local congregations.
Church Camps
Scripture is filled with stories of people experiencing God in the beauty and power of Creation. For thousands of years, God's people have looked at the world around them to learn about God's presence in their life. Camps are designed to bring children and youth into the beauty of creation and into the power of community. These intentional events are divided by age, and often by special focus.
Camps are run by volunteer directors and counselors from our local congregations. This is truly a shared ministry. All volunteers are screened and receive a background check. Support staff such as life guards, first aid, and cooks are hired to help our volunteers provide a wonderful experience in a safe environment.
To apply for counselor or director positions complete the online form here. If you are interested in working in a staff position at the Bedford camp as assistant cook, life guard, first aid director or dishwasher download the application here.
Camp Dates 2018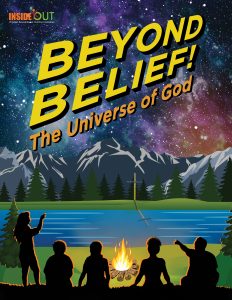 | | | |
| --- | --- | --- |
| Camp | Geneva Center | Bedford  |
| Middle School (Grades 6-8) | July 9-14 | July 16-21 |
| High School (Grades 9-12) | July 9-14 | July 2-7 |
| CROSS (Grades 6-12) | June 11-16 | |
| MAD (Grades 6-12) | June 18-23 | |
| Explorer (Grades 4-5) | June 11-16 | July 9-14 |
| New Beginnings (Grades 1-3) | June 25-27 | June 25-27 |
| You & Me (Grades K-3) | June 18-20 | June 28-30 |
| You & Me 2 (Grades K-3) | June 25-27 | |
Full Week: $300
New Beginnings, You & Me: $195
After May 15th: $25 increase
For more information about camp please see – "All About Camp"
Online Registration for the Bedford Camp Dates Click Below or download a paper copy here
Online Registration for the Geneva Camp is here. 
Access the online 2018 Camper Health Consent Form here.
Download the camp poster here.
 Youth – Spring Youth Assembly
Youth in grades 6 – 12 gather each Spring for worship, fellowship, learning and service.
Each congregation provides their own adult leaders and programming is led by the Indiana Youth Council (IYC)
IYC (Info and application)
Youth who are in High School may apply in the Spring to serve on the Indiana Youth Council. Selections are made by the current IYC members and appointments made by the end of Summer. Those who have graduated may no longer serve on IYC. Many colleges and universities related to the Christian Church (Disciples of Christ) offer scholarships for youth who serve on such teams.
RECONciliation Tours
Over the next few years, teams of 4 (2 youth and 2 adults) will travel across Indiana and across the country to explore ministries addressing racism and reconciliation. These travelers will gather together after their travels to share new ideas and encourage new ministries. Youth in grades 9 – 12 and adults who are at least 25 years old may apply.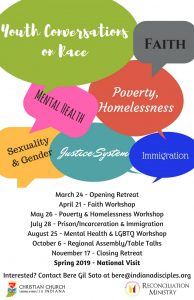 Download Youth on Race Conversation poster here.
Children Worship and Wonder
Children Worship & Wonder offers an exciting way to approach faith formation with children. The approach recognizes children as spiritual beings who already have a relationship with God. Through Children Worship & Wonder, children learn about God as they experience God. They hear Bible stories in a way that allows them to enter into the stories and form responses out of their own life experiences. Children Worship & Wonder can be used with children beginning at age 3. A wide age range can be grouped together in one class. It is a Montessori influenced program that often works wonders with children who have attention deficit problems.
You can be trained to become a Worship & Wonder Trainer. Learn more and register.
*Information taken from the Disciples Home Missions Children's Ministries webpage.
OTHER (Links, Resources, etc.)
Disciple Youth Ministry Network (for adult leaders)
Women
Disciples Women's Ministries is a conduit for diverse connections empowering each woman to find her voice and live out her call.The Indiana Women's Counsel seeks to facilitate opportunities for gathering and connecting the Disciples Women of Indiana, and would be pleased to receive ideas and suggestions for new ways to bring the Indiana women of faith together.   Feel free to be in touch with Maribeth Westerfield Blackman with ideas and questions at maribeth@indianadisciples.org
Women's Spring Event 
Women's Fall Retreat
OTHER (Links, Resources, background on women in leadership, etc)
Men
Disciple Men's Ministry is an opportunity for men from each congregation to learn, grown, and serve together. Our primary connection point comes at retreats, held at our Outdoor Ministry locations.
Curriculum