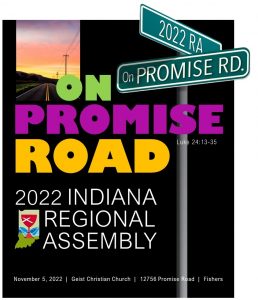 2022 Regional Assembly
"On Promise Road"
Saturday, November 5, 2022
Geist Christian Church
Promise Road Campus / 12756 Promise Road, Fishers, Indiana
Gathering & Exhibits: 9:00 am
Plenary: 10:00 am
Plenary and Business Meeting: 1:00 pm
Worship Service: 2:30 pm
Assembly will conclude at 4:00 pm
(All times are Eastern)
The theme for the Assembly will be "On Promise Road." We are delighted that Disciples author and minister Sandhya Rani Jha will be our keynote speaker and Janae Pitts-Murdock, senior pastor at Light of the World Christian Church (Indianapolis) will be our worship preacher. Both speakers will help us unpack the Emmaus text: Luke 24:13-35.
The Regional Assembly will be a "hybrid" event, meaning that you may register to attend in person for $45, or you can register to attend on-line for $25.
Registration deadline is October 26.
(complete and mail to Christian Church in Indiana, 1100 W. 42nd St., Ste. 150, Indianapolis, Indiana 46208)
(Voting only on these dates: November 5th-12th)